About Us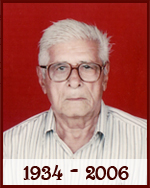 Bhagat Pavbhajiwala, started since before 1973 as a small dream, has grown by leaps and bounds and is moving ahead at a fast pace. Headed by Late Harilal Narandas Jobanputra, Bhagat Pavbhajiwala follows and nurtures a few core values that are impeccably followed by the leader and that percolate down to all levels in the organization later on from the year 1987 Mr. Kamlesh Harilal Jobanputra son of Late Harilal Narandas Jobanputra has joined the restaurant and follow the tradition.
Consistency in Taste
Empathy towards internal & external customers
Innovation in everything we do.
The management at Bhagat Pavbhajiwala sets the perfect example of leading with vision, determination, creativity and fairness. By god's grace and your continuous support, we have grown and reach to the heart of our customers. We serve Pavbhaji, Veg. Pulav and Bhaji-Pulav. We have Indoor and Outdoor seating facility. We have CCTV footage camera and well equipped Fire extinguishers for your safety.